Hey Gang!
As the season approaches, I want to bring the workouts up a notch. Here's the WOD!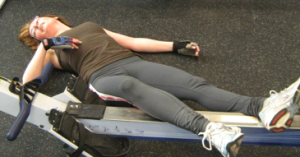 AM/Base:
100 push-ups
30 dips
5 x 7.5# wrist rollers–both directions
10 pull-ups
Main workout:
Rower's Hell, 10 rounds for time.
250m erg (substitute with a 1:00 hard run or stationary bike)
10 x body weight lunges (5 out 5 back)
30 minutes cardio or a 5k erg.
Post your time.
Coach Charlie