Hey everybody! Here is a video that covers one of my favorite features of the Concept2 Indoor Rower equiped with a PM3/4 monitor–the pace boat.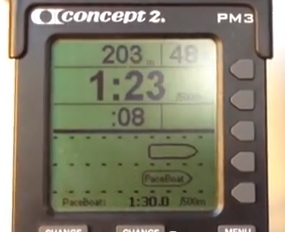 I'm a competitive individual and I like instant feedback on how I'm doing in a race or a piece on the erg. The pace boat feature allows you to set a pace goal and give you that instant feedback on where you stand at any given point during that piece. You can also use the pace boat feature to help you reach a goal time for a particular distance. Say you wanted to row 17:50 5k. Open the Concept2 online pace calculator enter 5000 meters for the distance, 17 minutes 50 seconds for the time, then click "CALCULATE SPLIT". The pace calculator will return a 500m split of 1:47. Enter 1:47 for the pace boat when you're setting up your workout and stay ahead of the pace boat for your piece!
Without further adieu, here is the demonstration video.
Have fun and happy erging!
Charlie